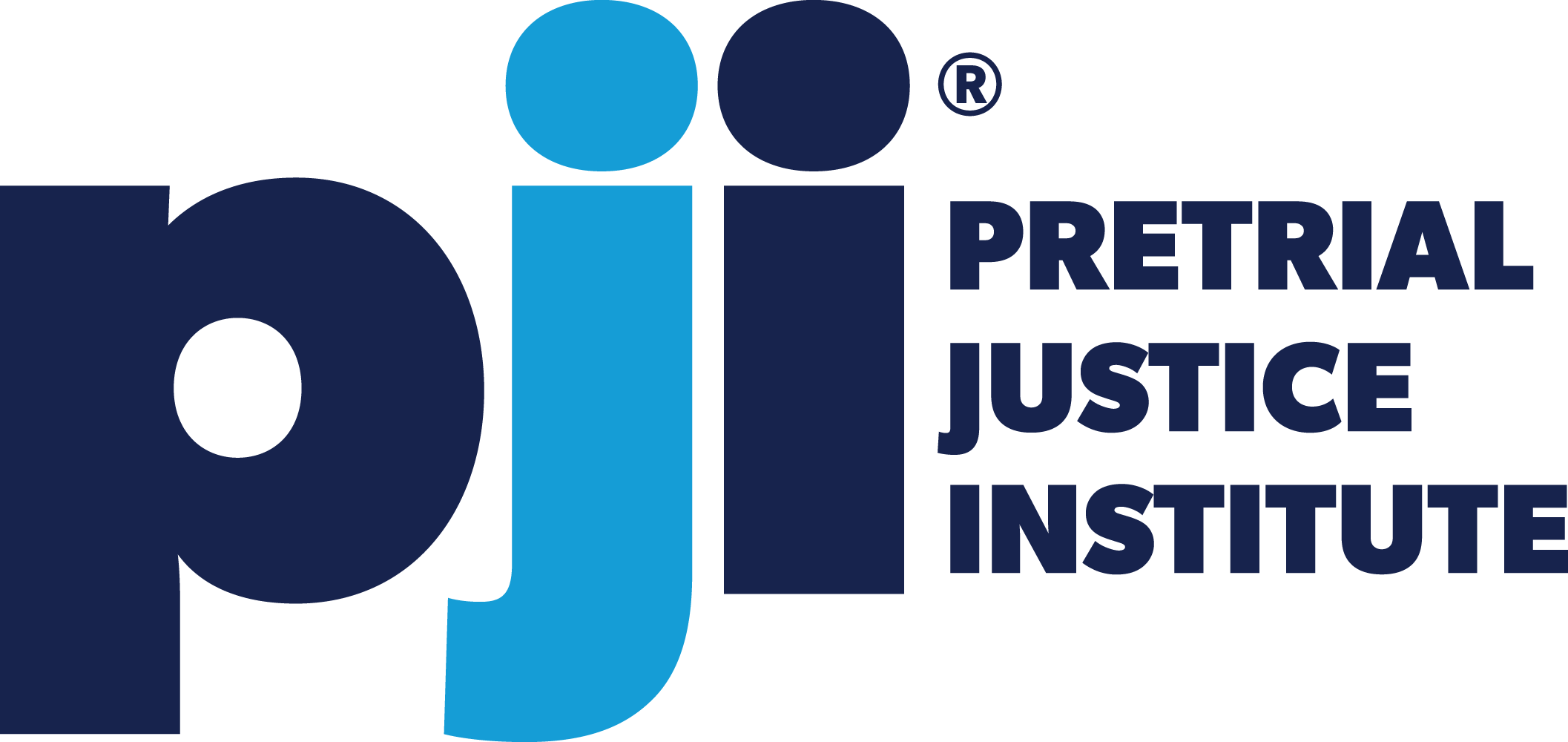 Policing Black Bodies (Part 5): Police and Pretrial Justice
Recorded On: 09/11/2020
Please use a current browser like Chrome, Edge, Safari, or Firefox to register and attend the webinar. Internet Explorer, Netscape, and other older browsers are not supported. Windows 10, or a current version of the MacOS are the preferred operating systems that will provide the best possible experience.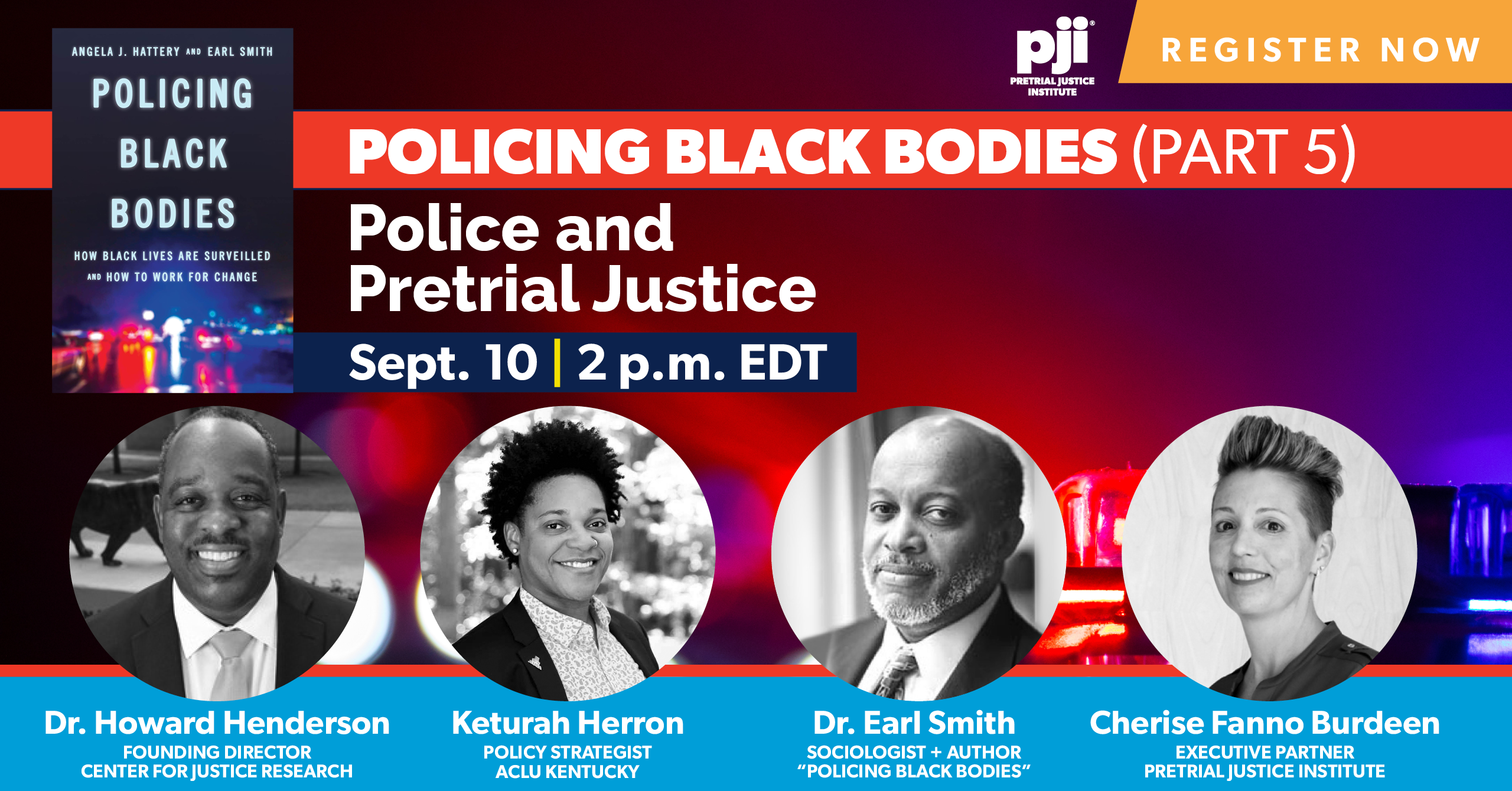 For a decade, PJI's engagement around police reform was limited to the idea of an expanded use of pre-arrest diversion and citations in lieu of custodial arrest. The idea, of course, was that the fewer people needlessly booked into the jail, the less chance they would have of being impacted by money bond, onerous supervision requirements, and now risk assessment. But the events of this year have asked us to think more deeply about policing reforms versus defunding the police. Even if other systems —health care, child welfare, employment, housing — were fully funded, are they free of systemic racism and ready to take over? Join us for a lively debate about the history of the police, the impact of militarization, and for those of us working on pretrial justice, where we might plug in to the calls for a radical reimagining of policing.
This Zoom event is FREE and open to ALL, but registration is required. (Please sign up for a complimentary University of Pretrial account to participate.)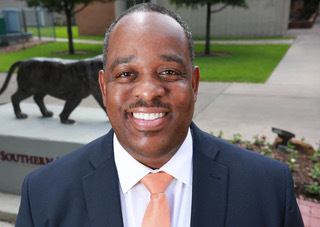 Howard Henderson
Director, Center for Justice Research at Texas Southern University
Howard Henderson is the founding director of the Center for Justice Research in the Barbara Jordan – Mickey Leland School of Public Affairs at Texas Southern University. He is a professor of justice administration and former graduate program director in the Administration of Justice Department. Howard is an expert on culturally responsive criminal justice research, program evaluations and assessment instrument validations. Dr. Henderson serves as an advisory board member of the Vera Institute's Rural Jail Research Policy Network and as a member of the National Scientific Advisory Committee at the Institute of Justice Research and Development at Florida State University.
Recently, Dr. Henderson served as the chair of the data subcommittee for Houston Racial/Ethnic Disparities Committee Data Workgroup supported by the MacArthur Foundation. Recently, Howard completed the National Science Foundation-funded project with the Baylor College of Medicine's Initiative on Neuroscience and Law that designed an iPAD risk assessment application that determined decision-making characteristics of the criminal justice involved through a range of cognitive traits. Dr. Henderson has also developed a multi-university research collaborative that provides mentoring opportunities for minority graduate students and university-level faculty. This program seeks to develop a synergistic pairing of mentee-mentor through mutual p rofessional interest and technical expertise.
He is a former member of the Texas Department of Criminal Justice Multidisciplinary Advisory Board overseeing the U.S. Department of Justice – U.S. Department of Labor's Prison Reentry Initiative. Dr. Henderson also was an instructor in the United States Department of State's International Law Enforcement Academy (ILEA). In previous work, he has examined the effect of perceived procedural justice and legitimacy on inmate behavior, predictive equity among risk assessment instruments, and a host of culturally-responsive criminal justice program evaluations.
Howard's research on predictive bias and program evaluation has been supported by the National Science Foundation, Department of Justice, and most recently the collaborative efforts of the Center for Advancing Opportunity, Thurgood Marshall College Fund and the Charles Koch Foundation. Dr. Henderson has served as an expert advisor for state and federal legislators and a host of criminal justice agencies along with reform-oriented non-profit organizations.
Dr. Henderson received his B.S. in criminal justice administration from Middle Tennessee State University, his masters of criminal justice from Tennessee State University, and his PhD in Criminal Justice from Sam Houston State University in 2006.
$i++ ?>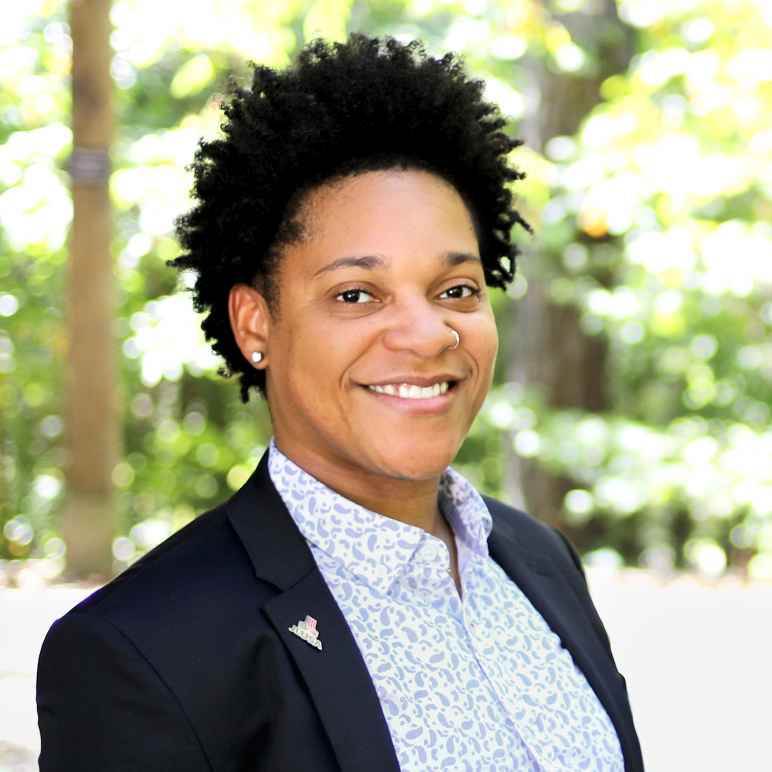 Keturah J. Herron
Policy Strategist, Juvenile Justice at the ACLU of Kentucky
Keturah J. Herron, born and raised in Kentucky, is a social justice advocate and change agent with over 15 years experience working with youth and families involved in the social service and the criminal justice systems. While in graduate school, Herron focused on the effects of parental incarceration on youth and disproportionate minority contact within the juvenile justice system in Kentucky. Since then, she has mentored and supported youth and families in rural and urban Kentucky as well as communities in South Carolina and Hawaii working in a variety of settings - juvenile youth facilities, community-based organizations and in the court system.
More recently, Herron's work has focused on policy change through a social justice lens. She is working closely with the Jefferson County Public Schools System Alternative School Task Force and Race Equity Policy in, Louisville, KY with a focus to end the school to prison pipeline. She is also active with several local groups: Kentuckians For the Commonwealth; Black Lives Matter Louisville; ACLU Kentucky; and Louisville Family Justice Advocates.
Currently, Herron is building a culturally responsive curriculum for justice-involved youth that integrates trauma-informed healing and leadership development.
Herron is a graduate of the University of Louisville and holds a Masters in Juvenile Justice from Eastern Kentucky University.
$i++ ?>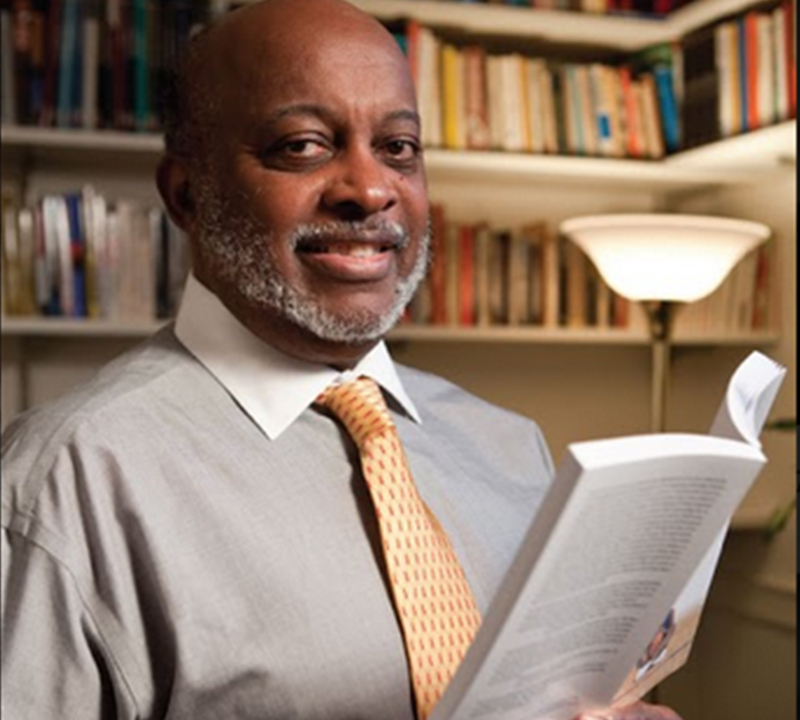 Dr. Earl Smith
Author, Policing Black Bodies
Earl Smith, PhD is Emeritus Professor of Sociology and the Rubin Distinguished Professor of American Ethnic Studies at Wake Forest University. He is the Director of the Wake Forest University American Ethnic Studies Program. Professor Smith has numerous publications (books, articles, book chapters etc.) in the area of professions, social stratification, family, urban sociology, and has published extensively in the area of the sociology of sport. His sport-focused books are: Sociology of Sport and Social Theory (2010) and Race, Sport and the American Dream (3rd edition 2014). He has also published: African American Families: Myths and Realities (2nd ed., 2014), The Social Dynamics of Family Violence (3rd ed., 2020), Prisoner Reentry and Social Capital (2010), Interracial Intimacies (2009); Interracial Relationships (2009); African American Families (2007). His most recent books are: Policing Black Bodies: How Black Lives Are Surveilled and How to Work for Change (2018) and Gender, Power, and Violence: Responding to Sexual and Intimate Partner Violence in Society Today (2019). He is currently finishing a book based on ethnographic research in a state prison system interviewing COs and inmates (2020). He received his M.A. and PhD from the University of Connecticut at Storrs.
$i++ ?>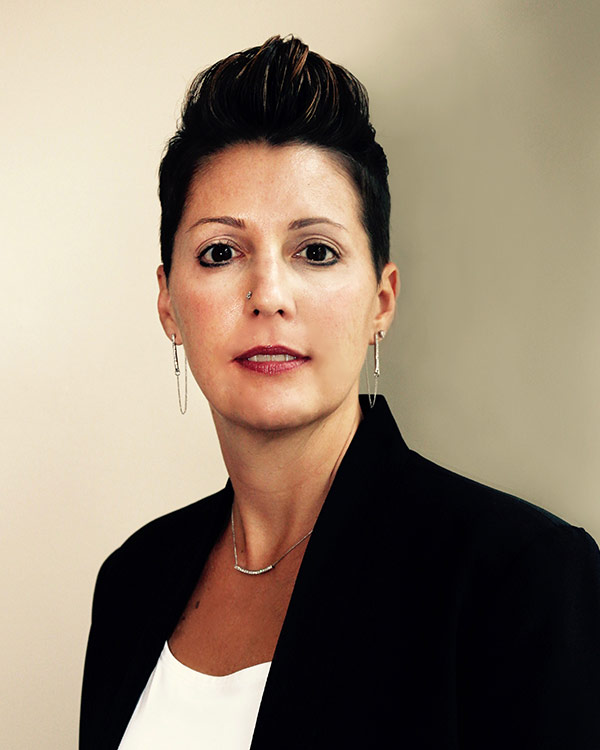 Cherise Fanno Burdeen (Moderator)
Executive Partner, Pretrial Justice Institute
Cherise Fanno Burdeenhas spent more than 20 years working to improve public safety policies and practices across the country. After earning a bachelor's in public administration from Miami University (Ohio) and a master's in criminal justice from Indiana University, she began her career with the DOJ's National Institute of Justice. After fieldwork that included time with the Safer Foundation in Chicago and post-9/11 federal service with the Department of Homeland Security, Cherise joined PJI.
Since 2006, Cherise has developed innovative strategies to raise awareness of pretrial justice issues, amassed a broad constituency of criminal justice stakeholder groups, provided technical assistance and training on policy reforms, and engaged in communications and media efforts. She has extensive experience with strategic planning, initiative management, and change efforts across the criminal justice system. She serves as an issue expert for legal and correctional professionals, national and community advocates, the media, influencers, and artists.
$i++ ?>
Key:

Complete

Next
Failed

Available

Locked
Policing Black Bodies (Part 5): Police and Pretrial Justice
09/10/2020 at 2:00 PM (EDT) | 90 minutes
09/10/2020 at 2:00 PM (EDT) | 90 minutes